The Truth Music Tour 2017 is almost a month away!
Coming May 21 with an All-Star lineup featuring
☆Bizzle, ☆Thi'sl, ☆Sevin, ☆Datin & ☆Eshon Burgundy !
Doors open 5:00pm at Set The Captives Free Outreach Center, 7111 Windsor Blvd. Baltimore, MD. All VIP packages and Early Bird tickets are SOLD OUT !!!
General admission tickets are still available at
Share the news! Invite family & friends!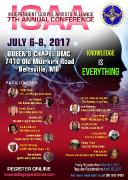 The Independent Gospel Artists Alliance, Inc. 7th Annual IGAA Conference is set for July 6th – 8th and will feature live performances, sessions, networking opportunities and more. The conference is co-presented by Stellar Award-winning celebrity Gospel Artists Phillip Carter and Earl Bynum.
Great News: All nightly showcases are now FREE pending your registration to the The Independent Gospel Artists Alliance Conference. SLOTS ARE LIMITED! Register online at www.indiegospelalliance.com

These are just some of the topics that will be discussed at this years conference:
☆Create and Expand Your Fan Base,
☆Contracts/Licenses/Royalties,
☆Fees vs. Freewill Offerings vs. Promotional,
☆Financial and Tax Planning for Artists,
​☆Songwriting: Tips To Writing A Great Song and much more...

Check out ☆Phillip Carter commercial video Independent Gospel Artists Alliance Conference 2017 Register today at www.indiegospelalliance.com Share the news!
SAVE THE DATE !!! IT'S OFFICIAL OUR 1ST NETWORKING EVENT !!!
Shawn Papi presents A Fellowship & Networking Event
July 13, 2013 from 1:00pm to 4:30pm at the 4 Star Luxury Hotel - Marriott Hotels & Resorts Greenbelt, 6400 Ivy Lane, Greenbelt, MD 20770.
Come out to meet and fellowship with the members of the Hey Papi Promotions Network.
Enjoy a great afternoon with Pastors, Entrepreneurs, Magazine Editors, Authors, Actors, Promoters, Event Planners, Stage Play Directors, Celebrities and National Recording Artists all will be in attendance along with Radio Station Hosts and much more…
We will have special guest speakers, discussion groups, door prizes & live entertainment!
FREE admission; bring friends, associates and plenty of business cards. So come out to make connections and new relationships!
For exhibitor tables or sponsorship opportunities call (301) 641-0814 For registration and more information visit network website at www.HeyPapiPromotions.com                                                                      
Free Shuttle Bus services from the Greenbelt Metro Station.
I will love to see you !!!
About shawnpapi
Connector, servant, promoter, evangelist and Brother in Christ. These are just a few words that describe Shawn Hay also known as Christian Promoter Shawn Papi, founder of the Hey Papi Promotions Network.
With over 15 years experience in promoting events and participating in community service activities all over the country and experience traveling all over the world, Shawn has made many relationships and is a great connector of people.
Since 1994, Shawn has been well known for promoting nightclubs, college parties, community activities and celebrity rapper events. During this time Shawn became one of the top promoters in the Maryland, Virginia and Washington, DC metropolitan area.
On New Year's Eve 1999, Shawn heard his calling from the Lord to give up the secular promoting and to use his God given gift to spread the Gospel through promotions and entertainment serving God.
Within a short period of time, Shawn established a Christian Marketing & Advertising Agency called Hey Papi Promotions. He decided to keep his old secular name Hey Papi Promotions because he wanted it to be a testimony to show others that they can change from a worldly lifestyle to one that praises Jesus Christ.
In 2008, he established the Hey Papi Promotions Network, a Christian, faith-based social media network website that now has registered members all over the world. The Hey Papi Promotions Network was created to keep people updated of Christian, faith-based events and community service activities across the world. The Hey Papi Promotions Network is centered around a community of professional people that are Pastors, Ministers, Entrepreneurs, Promoters, Gospel Artists and Media.
In addition to his entrepreneurial endeavors, he has received many community service accolades including being awarded the Radio One 93.9 WKYS Young African American Top 30 Under 30 of Washington DC-Maryland-Virginia, nominated for top 100 Minority Business Enterprise, International Worship Center Partner of the Year, MARY Magazine Man of The Month Award, a celebrity guest judge for Sheila Stewart's Annual High School Gospel Choir Competition, Kenmoor Middle School Career Day Outstanding Performance & Dedication Award and The Sasha Bruce Youthwork's College Tour Info Night in conjunction with Phi Beta Sigma Fraternity, Inc., Certificate of Appreciation and most recently The City of District Heights Mayoral Citation for outstanding service with the first Miss District Heights Pageant.
He has promoted and sponsored major events such as the Red Zone National Men's Conference, Mid-Atlantic Jazz Festival Gospel Matinee featuring Kirk Whalum & Kim Burrell, Praize In The City, Richard Smallwood Life Time Achievement Awards, St. Jude Hospital Fundraiser Radio-thon, First Baptist Church of Glenarden & Greater Mt. Calvary Holy Church New Years Revival, Stellar Awards, World Wide Community Church Childhood Obesity Health Fair, The Jokes Jams & Jesus Tour, The JAA Foundation's Empowerment Brunch with Vivica A. Fox and most recently the GMA Dove Awards.
Shawn Hay is dedicated to uplifting and bringing out the best in others, so that they may go out into the world as beacons of light and hope through Jesus Christ.
Shawn can be booked for speaking engagements and workshops on mentoring, event marketing and promotions.
"It is not about how many followers you have but how many lost souls you bring to Christ!"
Sign up, join & fellowship with us at: www.heypapipromotions.com
Recently Rated:
stats