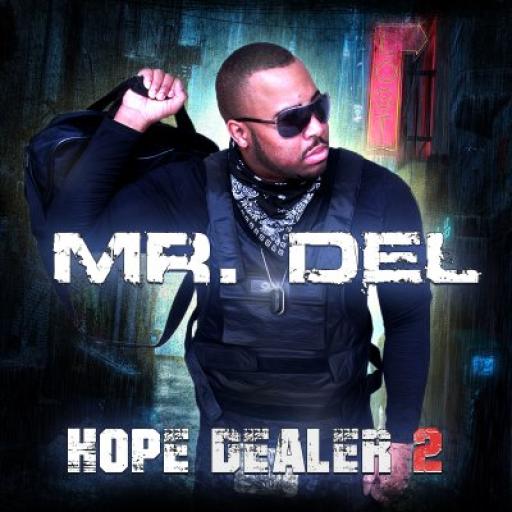 About Mr. Del
Mr. Del is making music that's going to surprise you. He's on a mission to prove that the medium doesn't define the message.

Rapper/songwriter/producer Mr. Del is changing the face of contemporary music. His nontraditional approach to Gospel fills the need for a real hip hop artist who is bold enough to proclaim the pure, uncut, unadulterated word of God. God's anointed hip hop Apostle, Mr. Del is committed to sharing the Gospel in a way unfamiliar to most secular and non-secular audiences with the intention of taking his message to the streets. Formerly a member of the Oscar-winning platinum-selling rap group Three 6 Mafia, Mr. Del rededicated his life to Christ in 2000, changing his message to promote righteousness rather than sin.

Mr. Del began writing, drumming and spinning records as a child, cultivating his signature sound. His music is now widely recognized as holy hip hop, laced with beats ranging from southern street to east coast bounce. His undeniable energetic flow can be compared to that of many legendary hip hop greats. His message is strong enough to penetrate the soul, but edgy enough to catch the attention of young audiences everywhere.

In 2005, Mr. Del fulfilled his dream of being on a major label. He inked a deal with EMI Gospel and released The Future that August. He was nominated for a GRAMMY® the same year in the "Best Rock Gospel Album" category for his fiery feature "Shake 'Em Off" from Holy Hip Hop: Taking the Gospel to the Streets, Vol. I. Prior to being signed by EMI Gospel, he had released six albums on his independent label Holy South. His lyrical style has been featured on records with legendary hip hop artist Cheryl "Salt" James of Salt-N-Pepa, Fabo of D4L, world renowned jazz artist Kirk Whalum, Lisa McClendon, Out of Eden, Debra Killings and labelmate Canton Jones. He has also opened for Kirk Franklin, Tonex and a host of other Gospel greats.

Mr. Del's experience as president and CEO of Holy South helped to secure a distribution deal with Universal Music Group for a company he founded, DMG (Dedicated Music Group). He went on to release the album Thrilla, and in 2009 received his first Dove Award nomination for Best Rap Album of the Year. In the same year, Mr. Del signed Mali Music and released his album The Second Coming, for which he received a nomination for Urban Recorded Song of the Year. Mr. Del is excited to be releasing new artists on DMG, including D-Mcghee, Murk, Rod G. Newman and Holy South.

More recently, Mr. Del scored (and made an appearance in) the Obama 2016 movie. Now, he's putting the finishing touches on a new full-length album set to drop in June 2013 called Faith Walka, and promoting his recently released book "Soul Ties: How to Detox From Toxic Relationships." Through all his efforts, Mr. Del seeks to share with an audience his passion for the Lord. He strives to use his life to help change the lives of countless youth and adults who have been tempted down an unrighteous path. Ultimately, Mr. Del desires to use his musical talent to express his love for God and His people.


Recently Rated:
stats