High Without You (w/ Lucinda Voz)
Artist:
jeremiahdirt
Genre:
Hip-hop & Rap
Duration:
00:04:28
Description:
(Buy FULL album on BandCamp, iTunes-Oct.2016) https://jeremiahdirt.bandcamp.com/album/the-rebel-lion It has been FAR too long since we've had a new solo project release from our eclectic Hiphop Artist, Jeremiah Dirt. As is the usual case with him, it seems the wait is over after a long hiatus... almost 9 years now! Early album promo's have been telling our ears that the wait (as usual again) is going to be well worth it! In October 2016 we will have NEW Dirt music. The album is called "the Rebel Lion" and it is Dirt's homage to his love for all things Jamaican & Reggae. As a Youth, Jeremiah was homeless at times. In his early teens he found friendship and fellowship in the local Pacific Beach, San Diegan, Jamaican-Born Rastafarian community. Although Jeremiah is not Rasta by theology, he has never forgotten the feeding of body and soul he received from his kind-hearted adopted family. Neither had he ever forgotten the vivid soundscape of reggae music and its culture that he was introduced to along the way. Up until that point, Dirt had never thought much that there was any other kind of music except for hiphop and so reggae quickly became his second music love (the 1st two rap crews he was in, he was known for strictly dancehall chatting. But it would take a lot to get him to do that now). Anyone who has paid close attention to his creative endeavours can hear his 'Jamaican patois' come through his lyrics at times. Jeremiah has been storing lyrics & beats for this project since 2004. That is 12 years of creative development from this consummate artist, so we are sure to expect a lot! "the Rebel Lion" is strictly groove-driven. The goal was to sample ONLY from Reggae, layer bangin' Hiphop drum breaks underneath, and then let Dirt loose over the top with his lyrical prowess. The mood of the project takes the listener from the feverish pitch of dancehall to the smoothness of roots, rock-riddims. From Dirt's vocals, we get the same creative dichotomy- from his as-expected revealing and emotionally-laden lyrics to light-hearted romps through songs as well as rucus rap revolutions. The Final is all very raw and meant to be as a purposeful celebration of both the Reggae & Hiphop genres history & upbringings. As is custom, it seems that Dirt has rewarded our wait, "the Rebel Lion" is packed! Expect Twenty-Plus tracks, a host of feature artists & DJ, and a few extra tracks to boot for digital downloads. To top all of this off... Dirt has not stopped creating with this 'Rebel Lion'-vibe as he's admitted to having a bit of a start for the NEXT reggae-infused album (a bunch of studio sessions that wouldn't fit on this album... so maybe we'll get another Dirt solo project sooner than we are used too!)
Tags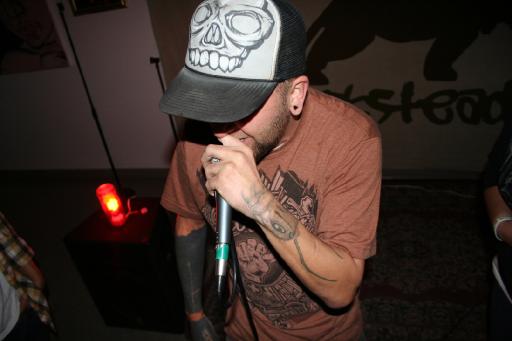 About Jeremiah Dirt
20 Years of Music from one of Underground Hiphop's most prolific artist!
       Dirt (Jeremiah) was born in Chicago and raised in San Diego. Accustomed to street life, violence and homelessness as a youth, he often found solace in music. In the beginning it was what surrounded him, Hip Hop. His early teens were spent as a member of the infamous crew 'Crayola' as a Bboy, where he had already began developing the competitive attitude that would later define his music.

       In Jr. High, bouncing from one house to another, he ended up staying with two musicians, an MC and DJ crew called Mod-X, that sparked a lot of positivity into his life spiritually and musically. It was around this time that he began to write lyrics and find purpose in uplifting artforms of music. Shortly afterward he was performing his own material in front of people, receiving praise from the start.

       By the time the latter half of the nineties rolled around, Dirt had been involved in a few rap crews and was making a big name for himself in the San Diego underground scene. Considering his music as part calling from on High, he had established his vision and desire for a strong, talented, God-centered group by writing the ' Locust Papri ' and coining the name, ' Shadow of the Locust '. It was around this time that SOTL's first convert, 7Lock, also met up with Dirt. The two were unstoppable in the secular market, showing up, weekly, to venues, bars, house parties, block events and anywhere hiphop was being played to grab the MIC and represent. Dirt became renowned for his freestyle and battle skills, even earning a spot to open up for KRS1 at a 'Bboy Summit' after party event.

       In 1994, he met a crew called Smooth Ruffness who had a performer, Rueben AKA Faceman, that doubled as an A&R for P.O.D's then mother-label, Rescue Records. Rueben immediately recognized the talent and introduced Dirt to P.O.D and the record label. After signing with Rescue Records, Dirt began work on the 'Plague' album and started touring with P.O.D. It wasn't hard for him to gain fans with his emotional, raw music and passionate stage presence. And his vision for a united front in Hiphop music, through 'Shadow of the Locust', gained national recognition.

       in 1997, Plague was done, releasing in 1999, and from there Dirt's career and vision soared and is yet to come down. After 15 years it's still about the lyrics. From "Plague" to "a War to Restore" and currently "Heavy Manners" Dirt has consistently delivered remarkable, sincere, revealing and heartfelt music that seems to ripen with age. Not your average Hiphop artist, Dirt surrounds the listener with provocative, God-centered music that is felt to the bone. From his vicious battle raps (directed towards the secular-minded who think Christ Emcee's are weak) to his emotionally charged topical songs, Dirt is a force to contend with. His fearlessness to approach hard topics in a revealing way has always led to very satisfying music. This is only matched by his undeniable respect for his culture of Hiphop in creating relevant music. Lastly, his 'non Holier-than-thou' approach to music and ministry has created an awesome fanbase and drawn extremely talented musicians to the 'Locust' vision. Recorded on hundreds of songs through his own releases, features on other artist's album's, mix tapes, EP's and freestyles - Rest assured that this envelope-pushing MC works hard to please the eardrums and encourage the soul. 

       Dirt is the founding father of ' Shadow of the Locust' , established in 1994. His goals in the music industry can be best expressed by his own words, "I want to make music that pushes people... inspires them and encourages them. Whether they are hit by the raw talent or the open-heartedness of my songs... just as long as at the end of the day, my music makes em say 'Man! God is awesome!"
Influences:
Jesus, King David, Shadow of the Locust, Remnant Militia, Nas
Recently Rated:
stats