There are so many people in the world today that don't have an understanding of God methods of doing things. Let me remind everyone that God is the creator of all things including music. Remember Lucifer was the Anointed Cherub and he had music established on the inside of him. The word anointed means to be set apart for Gods Divine purpose. It also means "bestowal of Gods divine favor. God had given Satan a certain amount of power and authority but he perverted that power. Lucifer wanted to exalt himself above God rather than just being the Angel of God.
Music I believe has a twofold purpose to glorify God or not to glorify God. Now if you study your word, music was initially created for the purpose of God up until Satan's rebellion. What he has done with music from that point on becomes another issue. Now let's define rap because a lot of people seems to think rap came from the world. But often time they don't do any research. Now hip hop is a culture and a religion but rap is defined as a rhythm, a beat, a sound, a way to communicate, to hit sharply, or to strike, to talk etc. The term rap is often used synonymously with hip hop, but hip hop also denotes the practices of an entire subculture. Now we all know what a beat is: it's a sound, strike, etc. Let's see what the word says about rap, music, and beats.
Now I am not going to type all of the words to these scriptures in here but I want you to study and read them for yourself. (Lucifer was God musical angel) Study: Job 38:7, Ezekiel 28:13, Isaiah 14:11-14, Isaiah 6:1-7, Genesis 3:24; Ezekiel 10:17-20; and 1 Kings 6:23-28 when you study and read it you will find your genre of music in there. Now it might not be the terms rhythm & blues, rock, rap, soul, jazz, country, pop, gospel, etc. But you will find out that Lucifer was a musical genius. Well let's break it down and help the church, the people, the world, and probably the person who is reading this article. God said in his word in Genesis 1:1 that he is the creator of heaven and earth. For by him were all things created that are in heaven and in the earth. Whether they are visible, invisible, they are thrones, dominions, principalities, or powers.
All things were created by him, and for him. (Colossians 1:16) All things were made by him; and without him was not any thing made that was made. (John 1:31) Whether therefore ye eat, drink, or whatsoever ye do, do all to the glory of God. Give none offence, neither to the Jews, nor to the Gentiles, nor to the church of God and even as I please all men in all things, not seeking mine own profit but the profit of many that they may be saved. For the earth is the Lord's and the fullness thereof and whatever you do, whether in word or deed, do it all in the name of the Lord Jesus giving thanks to God the Father through him. (Colossians 3:17) So as you can see that Lucifer was God's most beautiful angel but he rebelled against God so him and 1/3 of the angels got kick out of heaven.
That's the whole truth about music, and or whether God accepts it or not. Now for the real deep people that wants to know about all this other stuff. Like weed, cocaine, curse words, liquor, etc. My people are destroyed for the lack of knowledge. (Hosea 4:6) If you have a computer or access to the internet Google the word weed, cocaine, curse words, liquor etc, and tell me what you come up with.
God gave man free will and he can't make us use our thoughts, ideas, inventions, creative abilities, talents, medicines, words, deeds, actions, money, etc. for his glory. It's our choice, if he wanted some robots he would have made some but he didn't. There are so many excuses that people make so they can do what they want to do and try to get away with it. Doing what God call you to do is what Pastors are using today and many ministries are being successful when they obey.
He said his word will not turn unto him void but it will accomplish where we sent it too. So if I take his word and put it on a beat what is the difference between your pastor preaching but adding a beat to his voice? You still can't stop the word. Heaven and earth will pass away but his word shall be here forever. (Matthew 24:350 so who created music? Well according to my studies, my faith and what we just study God created all things visible and invisible. Also does God accept all music? Well, do your words line up with his word and are you doing it to the glory of God. I truly believe we got some understanding today on music and whether not God created it and do he accepts it.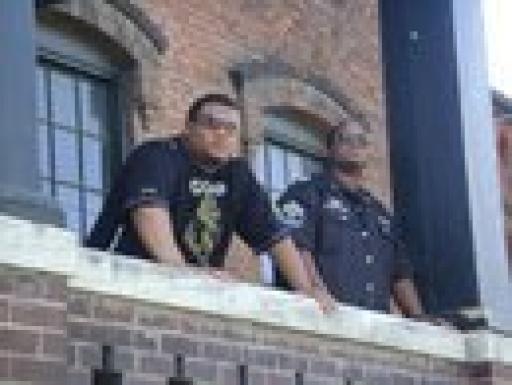 About Everlasting Souljas
Everlasting Souljas was founded by three anointed men of God on Sept. 10, 1999. Deacon Vic, Mr. shouty, Edward Johnson were the first three members. Later came along Chevron Dixon Known as Ms. Shorty and Michel Dixon known as Lil Mike. The group began to ...travel from church to church, city to city to minister the word of god through Gospel rap. They immediately explode on the scene as the best Gospel rap group petiton by the YMCA and several local churches in the city of Nashville, tn. During their outreach ministry they minister in prisons, churches, clubs and also several different juveniles. One time they minister in Woodland Hills Juvenille and 30 young people gave their lives to Jesus. Romans 10:9 - John 3:16- Genesis 1:28 -Leading souls into the kingdom of God is our mission. Jesus Said I am the way, the truth, the life and no man can come unto the father but by me. John 14:6 Vision We truly believe that we are in a time where young people are highly influence by the world's music and system. God has chosen us in these in these end times to use the same beats that world loves and listen too on a daily basis to satisfy their soul and emotions. What we do is use the same style of beat to glorify the kingdom of god but we put his word (which is the Word of God) and preach it in a form of rap. (Colossians 3:17) Our Mission is to travel all across the country preaching the gospel to all mankind until the return of Jesus Christ. We're not in it for the fame, fortune, houses, cars, clothes, but only to set captives free and give people the opportunity to know Jesus as their Lord and personal savior. (Luke 4:18) The bottom line is The Everlasting Souljas were chosen by God to win souls for The Kingdom of God.
Influences:
Lecrae, True Black, Unity Klan, Kirk Franklin, Po Folks, Jesus Christ
Recently Rated:
stats