Destiny Lab "NATURAL SELECTION"
Category:
Music
Duration:
00:03:26
Description:
SCROLL TO BOTTOM FOR LYRICS!!
Destiny Lab cd's:
http://destinylab.com
Download online:
http://cdbaby.com/Artist/DestinyLab
Listen to our new podcast:
http://diggingforthetruth.podomatic.com/
Join Facebook discussion:
http://facebook.com/destinylab
FREE Destiny Lab music:
http://reverbnation.com/destinylab
You can support what we do by buying all 3 of our cd's for only $25 which includes 54 songs in all at http://destinylab.com! Or download our music through CD Baby, Itunes, Amazon and most other digital sites. Stay tuned for our 4th album which is in the works now!!
Destiny Lab has been behind the scenes for decades preparing this music for this day and age, and now is the time for it to be shared with the masses. Special thanks to Michael Myers at PIC DEATHR-AD for helping to create this official Destiny Lab video.
Is man truly progressing? Are humans evolving and getting better with time or do we still have the same sin nature as the ancients we think we are so superior to? Did the origin of these ideas really originate with Darwin?
Investigate it for yourself and you will see these ideas have been the foundation for all new age concepts, esoteric teachings, secret societies, eastern religions and occult based worldviews . The idea man is a god is indeed the admitted foundation of all luciferians and the very first lie that the serpent told Eve in the garden to deceive mankind. How is it that this idea is being spread through so many different angles yet has no evidence to back it up? It seems to truly be much more than a physical deception but an actual supernatural spiritual deception.
How is it that logical smart people fall for the bait and switch from micro to macro evolution with absolutely no evidence of this? Since ancient times people have known about adaptation or natural selection and that if you breed two animals with similar traits you will have offspring with those same traits....this is not evolution...this is common sense. How is it that evolutionists have been able to take this common sense idea and convince people that given enough time you could form a completely different animal without any evidence whatsoever? This is not found in the fossil record or in modern times nor has it ever been observed by anyone. The idea that all animals, plants, and organisms have ONE common ancestor and that everything came from nothing is indeed a supernatural spiritual deception....there is no other way to explain it.
Our goal is to shine light on these illusions and separate facts from fiction. We want to help others to check into the history and evidence and be able to arrive at their own conclusions.
LYRICS:
HISTORICAL EXAMINATION INVESTIGATE FOR SOLID GROUND AND FOUNDATION
WE DISSECT THE INFECTION CUT IT OUT IF IT FITS WITH INTENTIONS OF SATAN
ILLUMINATE THE DECEPTIONS POINT EM OUT AND EXPOSE THEM FOR CAUSING STAGNATION
THEY IMITATE EDUCATION AND INVADE THE SYSTEM LIKE AN INFESTATION
WE PRESENT EXPLANATIONS ANNIHILATE AND CONFISCATE ABOMINATIONS
SHINE LIGHT ON ILLUSIONS AND INSPIRE YOUNG MINDS TO ARRIVE AT CONCLUSIONS
RECONNECT WITH CORRECTED CONNECTIONS THEN COLLECT AND REFLECT ON THE QUESTIONS
DEVELOP SKILLS USING SCRIPTURES AS WEAPONS
SWORD OF THE SPIRIT AT MY SIDE FOR PROTECTION
STAND FIRM IN MY HELMET OF SALVATION
AND MEDITATE ON EPHESIANS 6:10
NATURAL SELECTION FACT OR FICTION
IT'S OUR OBJECTIVE TO ASK THE QUESTION
WHAT'S THE TRUTH WHAT'S IMAGINATION?
EVOLUTION OR CREATION?
WE SUSPECT AND EXPECT SOME TENSION
FLEX MY RHYMES LIKE MUSCLES AND TENDONS
NEXT LESSON COURTS IN SESSION
FIRST IMPRESSIONS ARE AT TIMES PERPLEXING
EDUCATE WITH CREATION
WITH THE BIBLE AT OUR SIDES IT'S TRUTH DOMINATION
WE BATTLE DEMONS FROM OTHER DIMENSIONS
THEY MAKE INVENTIONS WITH EVIL INTENTIONS
NOT TO MENTION TAKE POSSESSION ON THE BATTLEGROUND
THEY ENTER HUMAN BEINGS THROUGH DECEPTION
OBJECT TO THE POINTS WHEN YOU SEE REFLECTIONS
CALLED TO THE WITNESS STAND FOR INSPECTION
NATURAL SELECTION FACT OR FICTION
EXAMINE THE QUESTION DON'T GET FISHED IN
EDUCATION OF DELUSION BAIT AND SWITCH
FROM THE MICRO TO THE MACRO EVOLUTION
LETS ARRIVE AT SOLUTIONS
USING THE WORD OF GOD TO ELIMINATE CONFUSION
NATURAL SELECTION FACT OR FICTION
IT'S OUR OBJECTIVE TO ASK THE QUESTION
WHAT'S THE TRUTH WHAT'S IMAGINATION?
EVOLUTION OR CREATION?
Tags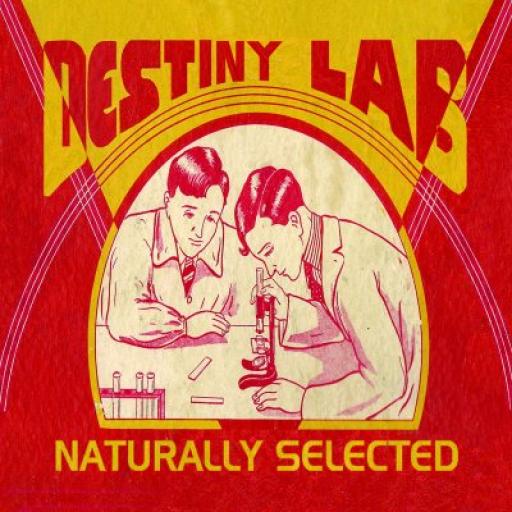 About Destiny Lab
Destiny Lab is a very unique Christian hip hop duo dedicated to; the exploration, discovery, understanding and the truth about the mysteries of man and nature. We are passionate about making music with meaning and purpose. Our music asks the listener life examining questions that demand answers. We witness and reason to others about the truth through the word of God and the self-evidence of that which He has made. We dabble in obscure subjects such as; evolution, creation, the new age deception, 2012, aliens, UFOS, the nephilim giants, dinosaurs, man, the origins of mythology, cryptozoology, and ancient technology. We look at these subjects to see how all these things tie into the truth of Biblical prophecy. When all of these subjects are looked at from a Christian worldview, the truth is revealed. Although, these subjects are interesting to study and debate our real goal is be instruments of God\'s will while breaking down the barriers and obstacles that the enemy has put into place that keep people from the truth that can only be found in Jesus Christ. He is truly the reason we do what we do. 
Recently Rated:
stats