Destiny Lab "THE GOOD PERSON TEST"
Category:
Music
Duration:
00:04:32
Description:
SCROLL TO BOTTOM FOR LYRICS!!
Destiny Lab cd's:
http://destinylab.com
Download online:
http://cdbaby.com/Artist/DestinyLab
Listen to our new podcast:
http://diggingforthetruth.podomatic.com/
Join Facebook discussion:
http://facebook.com/destinylab
FREE Destiny Lab music:
http://reverbnation.com/destinylab
You can support what we do by buying all 3 of our cd's for only $25 which includes 54 songs in all at http://destinylab.com! Or download our music through CD Baby, Itunes, Amazon and most other digital sites. Stay tuned for our 4th album which is in the works now!!
Destiny Lab has been behind the scenes for decades preparing this music for this day and age, and now is the time for it to be shared with the masses. Special thanks to Michael Myers at PIC DEATHR-AD for helping to create this official Destiny Lab video.
If any one of us is held to the standard of perfection and is judged by the 10 commandments we would all stand guilty....We are all lying, thieving, blasphemous adulterers at heart and our works are but filthy rags when it comes to the perfection of God. It is Jesus alone who stood without sin yet took the blame for all of ours. It is by his grace we are saved....none of us are good and none of us can boast about our salvation.
Thanks to Ray Comfort for allowing us to use his voice in this song. Check out his ministry Way of the Master who inspired this song.
Lyrics:
THE GOOD PERSON TEST
AM I A GOOD PERSON? YEAH YOU KNOW I THINK SO
I MEAN I DON'T GO AROUND JUST HURTING OTHER PEOPLE
I PAY MY TAXES I GOT A JOB I BELIEVE IN GOD
SOOO ITS NOT LIKE IM OUT THERE SMOKIN ROCK AND SHOOTIN COPS
LOOK, I EVEN USED TO GO TO CHURCH WHEN I WAS YOUNG
SO YEAH, IM PRETTY SURE WHEN I DIE I'LL GO TO HEAVEN
IM AN AVERAGE GUY, I MEAN I AINT NO SAINT BUT
I THINK COMPARED TO MANY PEOPLE ID SAY IM AN 8 OUT 10
SO YEAH, I THINK MY FRIENDS WOULD SAY I TRY TO DO MY BEST
WHY DO YOU ASK? IS THIS SOME SORT OF TEST?
IS THIS SOME SORTA SURVEY OR WHAT?
LOOK, I GOT STUFF TO DO TODAY CAN WE HURRY THIS UP?
AM I A SINNER? HAVE I BEEN FORGIVEN?
MAN THAT'S DEEP I DUNNO, IM JUST LIVIN
LISTEN WHAT THE POINT IM A BUSY MAN
MAYBE WHEN I GET OLD AND GREY YOU CAN ASK ME THESE QUESTIONS AGAIN
YEAH,YEAH I GET IT, YOU NEVER KNOW WHEN ITS YOUR TIME RIGHT
I MIGHT DIE TONIGHT AND NOT MAKE IT TO THE WHITE LIGHT
I'VE HEARD IT ALL BEFORE BUT YOU KNOW IM STILL YOUNG
I DONT WANNA THINK ABOUT THAT STUFF I JUST WANNA HAVE FUN
GOD'S COMMANDMENTS? YEAH I THINK THERE'S 10
I KNOW A FEW BUT I DON'T REMEMBER ALL OF THEM
DO I THINK ID GO TO HEAVEN IF THAT'S THE STANDARD I WAS JUDGED?
COULD GOD REALLY LET ME PASS IF HE WAS JUST?
HUH, WOW THOSE ARE SOME REALLY TOUGH QUESTIONS
I GUESS A GOOD JUDGE WOULD ACTUALLY HAVE TO PUNISH MY ACTIONS
YES I'VE LIED SO I GUESS THAT MAKES ME A LIAR
IM BEING HONEST NOW AND IM NOT IN DENIAL
HAVE I STOLEN? I GUESS WHEN I WAS YOUNG
WHAT'S THAT MAKE ME? LOOK IM JUST HUMAN!
WHO HASN'T STOLEN SOMETHING LITTLE HERE AND THERE?
OH NOW IM A THIEF OK THAT'S NOT EVEN FAIR
HAVE I LOOKED AT A WOMAN WITH LUST?
UH DUH YES I MEAN HAVEN'T ALL OF US?
JESUS SAID WHAT? THAT THAT'S ADULTERY?
WELL THEN YEAH I GUESS IM GUILTY
HAVE I TAKEN GODS NAME IN VAIN?
UMM YES IN ANGER AND FOR THAT I AM ASHAMED
YES I'VE HATED BUT SOME PEOPLE GET WHAT THEY DESERVE
WHAT? THAT'S AS IF I WAS A MURDER?
SO WHAT YOUR SAYING IS THAT BY MY OWN ADMISSION
IM A MURDERING LYING THIEVING BLASPHEMOUS ADULTERER AT HEART?
AND BECAUSE I'VE SINNED I'VE BEEN SEPARATED FROM GOD AND CONDEMNED?
MAN THAT RINGS SO TRUE, ITS LIKE I KNEW IT,
BUT WHAT CAN I DO? I'VE BEEN SO STUPID
DO I NEED TO LIKE SEE A PRIEST TO SEEK FORGIVENESS?
PLEASE ILL GO TO CHURCH ILL EVEN GO ON WEDNESDAYS
LOOK IM WILLING TO DO ANYTHING GOD ASKS
WHAT? MY WORKS ARE BUT FILTHY RAGS? THERE'S NOTHING I MUST DO
HE ACCEPTS ME EXACTLY WHERE IM AT?
AND THEN HELL CHANGE ME AFTER THE FACT?
I DON'T DESERVE THAT, THAT DOESN'T MAKE SENSE
I'VE BEEN TO BAD I SHOULD FACE PUNISHMENT
YOU SAY ITS ALL BY GRACE MY SINS CAN BE ERASED
ALL I MUST DO IS REPENT BECAUSE HE TOOK MY PLACE
HE FACED THE JUDGMENT SO JUSTICE COULD BE FULFILLED
AND AT THE SAME TIME MADE A WAY TO BE REVEALED
I GET IT NOW HOW COULD I BE SO BLIND
NONE OF US ARE GOOD ENOUGH AND THATS WHY JESUS DIED
Tags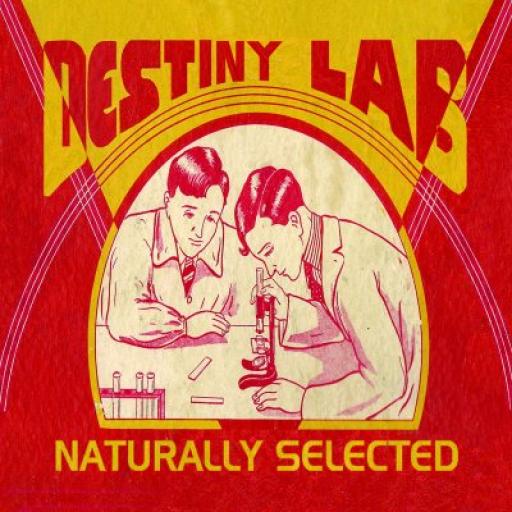 About Destiny Lab
Destiny Lab is a very unique Christian hip hop duo dedicated to; the exploration, discovery, understanding and the truth about the mysteries of man and nature. We are passionate about making music with meaning and purpose. Our music asks the listener life examining questions that demand answers. We witness and reason to others about the truth through the word of God and the self-evidence of that which He has made. We dabble in obscure subjects such as; evolution, creation, the new age deception, 2012, aliens, UFOS, the nephilim giants, dinosaurs, man, the origins of mythology, cryptozoology, and ancient technology. We look at these subjects to see how all these things tie into the truth of Biblical prophecy. When all of these subjects are looked at from a Christian worldview, the truth is revealed. Although, these subjects are interesting to study and debate our real goal is be instruments of God\'s will while breaking down the barriers and obstacles that the enemy has put into place that keep people from the truth that can only be found in Jesus Christ. He is truly the reason we do what we do. 
Recently Rated:
stats