Destiny Lab - WHO'S TO DECIDE"?
Category:
Music
Duration:
00:03:56
Description:
SCROLL TO BOTTOM FOR LYRICS!!
Destiny Lab cd's:
http://destinylab.com
Download online:
http://cdbaby.com/Artist/DestinyLab
Listen to our new podcast:
http://diggingforthetruth.podomatic.com/
Join Facebook discussion:
http://facebook.com/destinylab
FREE Destiny Lab music:
http://reverbnation.com/destinylab
You can support what we do by buying all 3 of our cd's for only $25 which includes 54 songs in all at http://destinylab.com! Or download our music through CD Baby, Itunes, Amazon and most other digital sites. Stay tuned for our 4th album which is in the works now!!
Destiny Lab has been behind the scenes for decades preparing this music for this day and age, and now is the time for it to be shared with the masses. Special thanks to Michael Myers at PIC DEATHR-AD for helping to create this official Destiny Lab video.
The fact that we have legalized the killing of babies who cannot be heard or seen or defend themselves against legalized murder is quite literally a mass blood sacrifice. How can we be so blind to allow this to be a real thing in a so called civilized society? We like to think we create laws to keep people safe and protected but we truly have let the most innocent of all be killed while we spend billions of dollars saving animals and the environment. Have we really grown past the evils of our past such as the atrocities that happened in the days when children were roasted in the scalding arms of Baal idols? Just because these babies cries are not seen or heard by the masses somehow allows us to turn our backs on this ultimate evil no different than the horrific sacrifices of children to the ancient pagan gods of baal and molech or the gas chambers of the Nazis.
We as a society are guilty of allowing legalized murder so people can selfishly turn their backs on the responsibility of having a child. We can only pray that someday we will wake up and be able to look back at the times when abortion was legal in the same way we look at the holocaust today and say, "never again!"
Our God is a wonderful loving and forgiving God and even if you have participated in abortions in the past please know that you can be forgiven and cleansed and redeemed of your sins and set free from the guilt and shame that hangs over your life.
He is willing and just to forgive us of all unrighteousness and cleanse us from all our sin.
John3:16"For God so loved the world, that He gave His only begotten Son, that whoever believes in Him shall not perish, but have eternal life.
Lyrics:
WHEN A TREE FALLS TO THE GROUND AND THERE'S NO ONE THERE TO HEAR IT DOES IT MAKE A SOUND?
DOES IT COUNT? DOES IT MATTER? IF IT LIVES OR IF IT DIES? TELL ME WHO'S TO DECIDE?
IF YOUR LIFE WAS TAKEN OUT AND THERE WAS NO ONE THERE TO HEAR YOU WOULD YOU MAKE A SOUND?
WOULD YOU COUNT? WOULD YOU MATTER?
IF YOU LIVED OR IF YOU DIED? TELL ME WHO'S TO DECIDE?
FROM THE MOMENT OF CONCEPTION WHEN THE CELLS MADE CONNECTIONS
REFLECTIONS OF THE PARENTS AS THE EGG SPLITS IN SECTIONS
COMPREHENSION CANNOT ENTER THIS DIMENSION
INVENTION OF CREATION BY DIVINE INTERVENTION
MIRACLE OF LIFE COUNTDOWN TO DEATH
NUMBERS ON YOUR BREATH LIKE THE HAIRS ON YOUR HEAD
WROTE THE RECORDS YOUR HISTORY MAPPED OUT FROM ETERNITY
RECORDED IN THE BOOK OF LIFE THE STORY OF OUR DESTINY
EVERY SOUL HAS A REASON TO BREATH
EVERY CHILD A RIGHT TO PROCEED ONCE THEY'RE CONCEIVED
THINK IF ALL THE HUMAN BEINGS DESTROYED
WERE EVER GIVEN A VOICE YOU THINK THEY'D BE PRO CHOICE?
WHAT KIND OF PARENTS GONNA EVER REGRET
THEY CHOSE LIFE OVER DEATH AT THEIR BABIES FIRST STEP?
YOU BETTER BET THAT THERE'S A CAUSE AND EFFECT
WHEN A HUMAN LIFE SHED YOU WANNA BE THE PRIME SUSPECT?
HUNDREDS OF MILLIONS OF CHILDREN HAVE BEEN LOST IN THIS GENOCIDE
THIS HOLOCAUST PERSISTS EVERYDAY AND ITS WORLDWIDE
THE RIGHTS OF A WOMAN SHOULDN'T PERMIT A HOMICIDE
EXACTLY LIKE A NAZI GUARD GASSING WITH CYANIDE
THE ONLY DIFFERENCE FROM A CLINIC TO ASHAWITZ
IS THAT AT LEAST A SMALL PERCENTAGE MADE THEY'RE WAY OUT OF IT
YOU'D THINK WED LEARN WHEN WE TOLD OURSELVES NEVER AGAIN
REPEAT OFFENDERS OF THE SLAUGHTER OF THE NNOCENCT
WERE WAY TO BUSY GOTTA SAVE THE ENVIRONMENT AND MAKE SURE
DOGS AND CATS HAVE A WARM AND SAFE HABITAT
WHAT'S THE CONSEQUENCE OF TAKING THIS PATH
WHEN EVOLUTION PUTS A HUMAN ON THE LEVEL WITH RATS?
IT MAKES NO DIFFERENCE THEN WHO LIVES OR WHO DIES
THE INCONVENIENCE OF A BABY IS LIKE SWATTING A FLY
THEIR SILENT CRIES AND DEATHS ARE NEVER OBSERVED
WHAT WOULD THEY SAY TO THEIR PARENTS IF THEIR LITTLE VOICES WERE HEARD? HIDDEN FROM VIEW THE DESTRUCTION OF MILLIONS
IF THEY SAW THEIR FUTURE LIVES
WOULD THEY STILL MAKE THE CHOICE TO KILL THEM?
HOW COULD THIS HAPPEN ON A CIVILIZED EARTH
WHEN THERE'S MORE CONCERN FOR ANIMALS THAN BABIES AT BIRTH?
THE DAY WILL COME WHEN WE WILL SUFFER THE WRATH
AND HAVE TO ANSWER FOR OUR SINS UNCOVER OUR PAST
NO SINS ARE HIDDEN OR UNKNOWN BY GOD
BUT KNOW THAT ALL CAN BE FORGIVEN
THROUGH THE POWER OF THE CROSS
Tags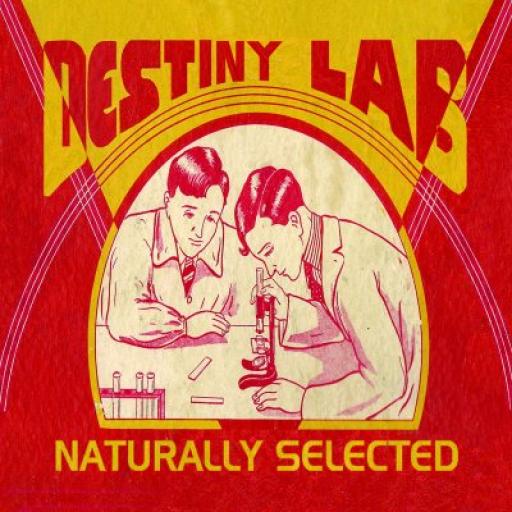 About Destiny Lab
Destiny Lab is a very unique Christian hip hop duo dedicated to; the exploration, discovery, understanding and the truth about the mysteries of man and nature. We are passionate about making music with meaning and purpose. Our music asks the listener life examining questions that demand answers. We witness and reason to others about the truth through the word of God and the self-evidence of that which He has made. We dabble in obscure subjects such as; evolution, creation, the new age deception, 2012, aliens, UFOS, the nephilim giants, dinosaurs, man, the origins of mythology, cryptozoology, and ancient technology. We look at these subjects to see how all these things tie into the truth of Biblical prophecy. When all of these subjects are looked at from a Christian worldview, the truth is revealed. Although, these subjects are interesting to study and debate our real goal is be instruments of God\'s will while breaking down the barriers and obstacles that the enemy has put into place that keep people from the truth that can only be found in Jesus Christ. He is truly the reason we do what we do. 
Recently Rated:
stats