Destiny Lab "THE UFO PUZZLE"
Category:
Music
Duration:
00:04:18
Description:
SCROLL TO BOTTOM FOR LYRICS!!
Destiny Lab cd's:
http://destinylab.com
Download online:
http://cdbaby.com/Artist/DestinyLab
Listen to our new podcast:
http://diggingforthetruth.podomatic.com/
Join Facebook discussion:
http://facebook.com/destinylab
FREE Destiny Lab music:
http://reverbnation.com/destinylab
You can support what we do by buying all 3 of our cd's for only $25 which includes 54 songs in all at http://destinylab.com! Or download our music through CD Baby, Itunes, Amazon and most other digital sites. Stay tuned for our 4th album which is in the works now!!
Destiny Lab has been behind the scenes for decades preparing this music for this day and age, and now is the time for it to be shared with the masses. Special thanks to Michael Myers at PIC DEATHR-AD for helping to create this official Destiny Lab video.
Joe Jordan is a great friend and researcher in the UFO field. Joe heads up the CE4 research group and has over 20 years of experience. Joe has been on both sides of the fence coming from the new age now to the truth in Jesus Christ. He has collected hundreds of written and audio testimonies from people who have been tormented by alien beings, abductions experiences, sleep paralysis and paranormal happenings who have learned that these beings are all demonic and flee in the name and authority of Jesus Christ. The people and their experiences are the conclusive evidence for the UFO field and should be embraced as finally offering a solution and defense for these issues. Instead Joe's research has been referred to as "The unwanted piece of the UFO puzzle." Some inside the UFO realm have tried to scoff at and even censor Joe's evidence and he has faced supernatural opposition from many directions. Joe Jordan and Guy Malone and many others that are showing these facts to the masses and are heroes in our eyes who continue to bring the unwanted piece of the puzzle to the forefront of UFO research.
Visit his website here.
http://www.alienresistance.org/
LYRICS:
HEY YO THERE'S SOMETHING IN THE AIR CAN'T YOU FEEL IT?
ITS LIKE EVERYTHING IS STARTING TO BE CLEAR AND CAN YOU SEE IT
IT'S SO INTRIGUING TO OBSERVE REALITY
WHAT DO YOU BELIEVE? WILL WE EVER AGREE?
I SEE A PLANET THAT'S IN QUESTION SEE REFLECTIONS
OF THE PAST REPEATING PATTERNS REPETITIONS
A VISION CLOUDY WITH DECEPTION
BUT WE KEEP PRESSING TOWARD THE FUTURE EXPRESSING OUR INTENTIONS
WE WANT THE TRUTH NOT INVENTIONS
NOT DEMONICS OR ROBOTICS SENT TO IMITATE PERCEPTIONS
ARE ALIENS HOLOGRAPHIC OR ORGANIC?
EXAMINE FACTS THERE'S NO NEED FOR A PANIC
PEOPLE SAY THAT THEY'LL BELIEVE IT WHEN THEY SEE IT
TAKE ME TO YOUR LEADER WHO CONTROLS THE SPACESHIP
TELL ME WHAT'S YOUR ORIGIN ILL KNOW YOUR INTENTIONS
WHAT'S BEHIND THE MASK MAY NOT BE WHAT YOUR EXPECTING
BRING US YOUR CLUES THERE'S NO NEED TO BE TROUBLED
EVERYBODY'S GOT A DIFFERENT PIECE OF THE PUZZLE
LET'S EXAMINE EVERY PART OF THE MIXTURE
AND TRY TO UNDERSTAND THE WHOLE ENTIRE PICTURE
LETS FILTER OUT ALL THE FRAUDS AND THE GIMMICKS
EXPOSE TO THE MASSES THE MASQUERADES AND MIMICS
WE STUDY FACTS AND INSPECT THE CLUES
DISCOVER HIDDEN LINKS TO UNCOVER THE TRUTH
FIT IT TOGETHER AND COLLECT IT
AND USE THE INTERNET TO NETWORK WITH LIKE MINDS CONNECTED
ITS MOST EFFECTIVE WHEN WE SHOW RESPECT
AND WHERE THE EVIDENCE LEADS US IS OUR DIRECTION
WE FOLLOW PATTERNS WITH EXPERIENCE
ABDUCTIONS AND UFO SIGHTINGS HAVE US CURIOUS
IS IT MYSTERIOUS COINCIDENCE?
THAT WE HAVE SO MANY SIGHTINGS WITHOUT PHYSICAL EVIDENCE?
ARE WE PART OF ANY EXPERIMENT?
MEANT TO HYBRIDIZE THE HUMAN RACE WITHOUT US KNOWING IT?
WILL THEY ACCELERATE OUR PLANET?
OR DESTROY US AND CALL IT EVOLUTION ADVANCEMENT?
BRING US YOUR CLUES THERE'S NO NEED TO BE TROUBLED
EVERYBODY'S GOT A DIFFERENT PIECE OF THE PUZZLE
LET'S EXAMINE EVERY PART OF THE MIXTURE
AND TRY TO UNDERSTAND THE WHOLE ENTIRE PICTURE
WERE SCIENTIFIC WITH ANALYSIS
LET'S INVESTIGATE THESE THINGS FORGET ABOUT THE POLITICS
WE WANT DISCLOSURE IF THAT'S WHAT YOU GOT
WE WANT TO SEPARATE THE ACTUAL FACTS FROM WHAT'S NOT
OPEN YOUR MINDS FOR A MOMENT AND WALK THE NARROW PATH
AND FIND THAT YOUR EYES WILL BE OPENED
YOU COULD SEE THE WORLD IN A WHOLE NEW LIGHT
READ BETWEEN THE LINES AND YOU'LL SEE THAT IM RIGHT
WHAT REALLY HAPPENED IN 1947?
ALIENS WEATHER BALLOONS ANGELS FROM HEAVEN?
A DIMENSIONAL INVASION NOW COULD IT BE TRUE
THE BIBLES PART OF THE EQUATION?
OPEN OUR EYES TO ALL THE POSSIBILITIES
SO WE DON'T GET BURNED BY FAKES AND FACSIMILES
COMMON THEMES ARE PART OF THE KEY
SO DON'T BE DECEIVED LIKE ADAM AND EVE
BRING US YOUR CLUES THERE'S NO NEED TO BE TROUBLED
EVERYBODY'S GOT A DIFFERENT PIECE OF THE PUZZLE
LET'S EXAMINE EVERY PART OF THE MIXTURE
AND TRY TO UNDERSTAND THE WHOLE ENTIRE PICTURE
Tags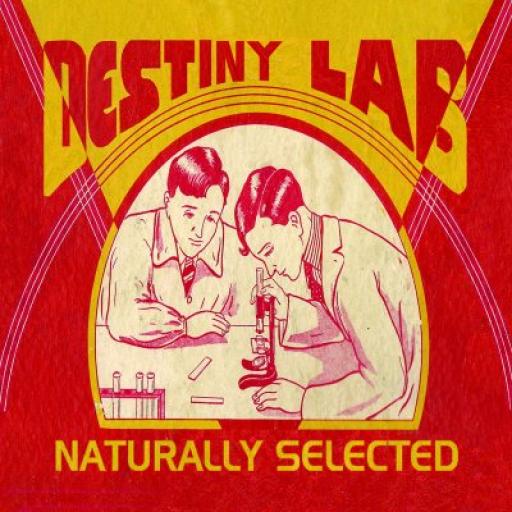 About Destiny Lab
Destiny Lab is a very unique Christian hip hop duo dedicated to; the exploration, discovery, understanding and the truth about the mysteries of man and nature. We are passionate about making music with meaning and purpose. Our music asks the listener life examining questions that demand answers. We witness and reason to others about the truth through the word of God and the self-evidence of that which He has made. We dabble in obscure subjects such as; evolution, creation, the new age deception, 2012, aliens, UFOS, the nephilim giants, dinosaurs, man, the origins of mythology, cryptozoology, and ancient technology. We look at these subjects to see how all these things tie into the truth of Biblical prophecy. When all of these subjects are looked at from a Christian worldview, the truth is revealed. Although, these subjects are interesting to study and debate our real goal is be instruments of God\'s will while breaking down the barriers and obstacles that the enemy has put into place that keep people from the truth that can only be found in Jesus Christ. He is truly the reason we do what we do. 
Recently Rated:
stats