Destiny Lab "UNIVERSAL NEBULA"
Category:
Music
Duration:
00:04:41
Description:
SCROLL TO BOTTOM FOR LYRICS!!
Destiny Lab cd's:
http://destinylab.com
Download online:
http://cdbaby.com/Artist/DestinyLab
Listen to our new podcast:
http://diggingforthetruth.podomatic.com/
Join Facebook discussion:
http://facebook.com/destinylab
FREE Destiny Lab music:
http://reverbnation.com/destinylab
You can support what we do by buying all 3 of our cd's for only $25 which includes 54 songs in all at http://destinylab.com! Or download our music through CD Baby, Itunes, Amazon and most other digital sites. Stay tuned for our 4th album which is in the works now!!
Destiny Lab has been behind the scenes for decades preparing this music for this day and age, and now is the time for it to be shared with the masses. Special thanks to Michael Myers at PIC DEATHR-AD for helping to create this official Destiny Lab video.
People often ask for proof of God or evidence of a Creator and yet seem to ignore the absolute miracle of life itself.
The existence of God becomes more evident with every scientific discovery that man finds. Yet the pride of man seems to keep many willingly ignorant and blind to God's eternal majesty. From the existence of the programmed codes within DNA to the Eye of God nebula in vastness of space...every thing in existence is an example of his creative powers and imagination. Although there is sin and corruption and death this is foreign to God's original design and Creation. We live in a perfect world that has been invaded from an outside force that is not of this world and seeks to destroy and invade every good thing that God made....Imagine if you could see the world without the sin and corruption and suffering brought on by sin and death....Imagine how life would appear with brand new eyes for the very first time without any preconceived notion of what life or reality was..... how in awe would you be?....we live in this reality and the existence of God is right in front of us for those willing to open their eyes to his Glory his reality is clear.
Romans 1:20 For the invisible things of him from the creation of the world are clearly seen, being understood by the things that are made, even his eternal power and Godhead; so that they are without excuse:
LYRICS:
UNIVERSAL NEBULA
UNIVERSAL NEBULA SEEMINGLY ASLEEP
SPECTACULAR SWIMMING IN A DREAM
FLYING SEE WHAT IS UNSEEN
HOVERING QUIETLY GLIDING ON A BEAM
FREE TO BELIEVE ANYTHING MEANT TO IMAGINE
WHAT WE CONCEIVE IS SOMETHING LESS THAN COULD HAPPEN
CAN WE ACHIEVE ANYTHING CLOSE TO CREATION?
NOTHING EXCEPT OUR OWN MANIPULATION
GENERATION AFTER GENERATION AFTER GENERATION
IT'S THE SAME REPEAT WHAT HAS BEEN MADE
NOTHINGS NEW UNDER THE SUN ITS JUST FORGOTTEN
BURIED INTO DUST ROTTEN
ARE WE A SPECIES WITH AMNESIA ?
OR DO WE CHOOSE TO IGNORE WHAT THE ANCIENTS TRIED TO TEACH US?
MEN OF RENOWN THE LEGENDS OF THE PAST
HEROES OF OLD THAT HAVE ALL TURNED
TO ASHES TO ASHES THEY ALL FELL DOWN
AND RETURNED TO THE EARTH AS THE DUST OF THE GROUND
WHAT HAS BEEN LOST IN DUE TIME WILL BE FOUND
SHIMMERING SPHERE GIVING GIFTS THAT ARE BOUND
HUMANS ARE BOUND IN ROTATION OF TIME
SOUNDS THAT REPEAT AND REVOLVE IN OUR MINDS
DID WE EVOLVE BY MISTAKE OUT OF SLIME?
WITHOUT A PURPOSE OR A REASON OR DESIGN?
LIKE FRANKENSTEIN HE'S ALIVE HE'S ALIVE
TIME CANNOT ERASE WHAT YOU'LL FIND
YOUR PERSPECTIVE SEEMS TO BE THE ONLY EVIDENCE
MONKEYMAN DO YOU THINK YOU ARE INTELLIGENT?
YOU NEGLECT TO ADMIT YOUR INTENTIONS
BENT ON DECEPTION INTERPRET AN INVENTION
TODAY NASA SCIENTISTS ANNOUNCED THE DISCOVERY
OF WHAT IS BEING CALLED THE EYE OF GOD NEBULA
SPOTTED BY THE HUBBLE TELESCOPE IT APPEARS TO RESEMBLE
A GIANT HUMAN EYE SOME SAYING PROOF THAT GOD EXISTS
UNIVERSAL NEBULA CARRY US AWAY
INVISIBLE BUT WE SEE YOU EVERYDAY
PRAYING GOT US ON OUR KNEES
WHAT IS YOUR WILL FATHER PLEASE TELL US PLEASE
CIRCLE THE GLOBE HUMANS SEARCH FOR A REASON
SIMPLE SOLUTIONS TO A COMPLEX EQUATION
ARE WE PREPARED ON THIS EARTH OF CREATION
FOR SOMETHING.... LIKE AN ALIEN INVASION
SPIRITUAL WAR OF THE WORLDS ATTACK ON OUR SOULS
AND FREE WILL PUTS US AT THE CONTROLS
YOU HEAR THE KNOCKING? ARE YOU FORGIVEN ?
SAVED.... YOUR SINS FORGOTTEN
ARE WE REALLY SIMPLE MORTALS?
OR CAN WE RISE TO A PLACE PARADISE THAT'S ETERNAL?
BE BORN AGAIN WITH NO SIN AND NO PAIN?
A PLACE OF JOY AND PURE LOVE WHERE HE REIGNS
AS THE KING OF ALL KINGS OF ALL KINGDOMS
THE LION ROARS TO THE SOUNDS THAT WERE SINGING
HE BOBS HIS HEAD TO THE RHYMES THAT WERE SLINGING
WE WORSHIP HIM DESTINY IS WHAT WERE BRINGING
UP IN THE LAB RUN EXPERIMENTS WITH TEST TUBES
WERE WEARING LAB COATS UNDERNEATH OUR MONKEY SUITS
WE ILLUSTRATE IMAGINATIONS QUITE ATYPICAL
AND DEMONSTRATE OUR UNIQUE SKILL LEVELS IN LYRICAL
THAT'S INCREDIBLE.....IS WHAT THEIR SAYING
WE RATTLE CAGES WITH THE RAPS WERE DISPLAYING
BATTLE FOR SOULS THAT ARE TRAPPED AND DECAYING
WERE PRAISING GOD WITH THE TRAILS THAT WERE BLAZING
INTO UNKNOWN ITS LIKE A MAGIC WISHING BONE
OUR FUTURES KNOWN COSMOLOGICALLY ITS SHOWN
Tags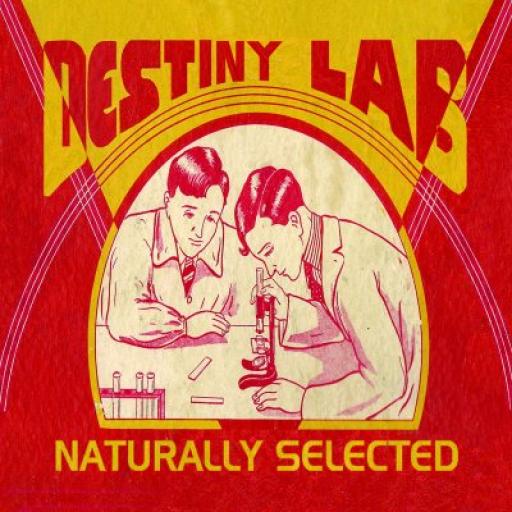 About Destiny Lab
Destiny Lab is a very unique Christian hip hop duo dedicated to; the exploration, discovery, understanding and the truth about the mysteries of man and nature. We are passionate about making music with meaning and purpose. Our music asks the listener life examining questions that demand answers. We witness and reason to others about the truth through the word of God and the self-evidence of that which He has made. We dabble in obscure subjects such as; evolution, creation, the new age deception, 2012, aliens, UFOS, the nephilim giants, dinosaurs, man, the origins of mythology, cryptozoology, and ancient technology. We look at these subjects to see how all these things tie into the truth of Biblical prophecy. When all of these subjects are looked at from a Christian worldview, the truth is revealed. Although, these subjects are interesting to study and debate our real goal is be instruments of God\'s will while breaking down the barriers and obstacles that the enemy has put into place that keep people from the truth that can only be found in Jesus Christ. He is truly the reason we do what we do. 
Recently Rated:
stats