Destiny Lab "UNITED BABYLON"
Category:
Music
Duration:
00:03:38
Description:
SCROLL TO BOTTOM FOR LYRICS!!
Destiny Lab cd's:
http://destinylab.com
Download online:
http://cdbaby.com/Artist/DestinyLab
Listen to our new podcast:
http://diggingforthetruth.podomatic.com/
Join Facebook discussion:
http://facebook.com/destinylab
FREE Destiny Lab music:
http://reverbnation.com/destinylab
You can support what we do by buying all 3 of our cd's for only $25 which includes 54 songs in all at http://destinylab.com! Or download our music through CD Baby, Itunes, Amazon and most other digital sites. Stay tuned for our 4th album which is in the works now!!
Destiny Lab has been behind the scenes for decades preparing this music for this day and age, and now is the time for it to be shared with the masses. Special thanks to Michael Myers at PIC DEATHR-AD for helping to create this official Destiny Lab video.
The best way to clearly understand the role and agenda of the United Nations is to study Bible prophecy and you will begin to recognize the foundations of a one world currency, government and leader that the Bible predicts will be the antichrist. As we see the story take shape before our eyes we can grow closer to God in the knowledge and faith we have in him. These times and these signs were written long ago and there are clearly two sides with two agendas but only ONE winner. There is a muse that is being followed through those who act as conduits and channels within every level of influence. Many people who are in high levels of influence act as extensions to the spirit realm and are not controlled by flesh and blood but by principalities and forces of darkness. There is a battle going on and a plan that is unfolding and even though it seems like a time of fear we can rest in the assurance that their is promised solution and an answer that can be found through Jesus Christ.
LYRICS:
CLASH OF THE TITANS BLACK PLAGUES
BITE LIKE SHARKS TAKE THE BAIT
SNAKE BY THE NECK STAKE
STRAIGHT THROUGH THE HEART
AVOID THE MARK POISONOUS
INFECT READY TO TRANSMIT
INJECT WILLING SUBJECTS
DISINFORMATION FALLING FOR PLOTS
GOT EM LOCKED UP ACROSS
THE GLOBE CALLING THE SHOTS
POLITICIANS EMPIRICAL THOUGHTS
GORILLAS MARCH
ITS A COLD CALCULATION
SHOWING THEIR CLAWS
PUPPET MASTERS
MAKIN YOU RUN
KEEPING YOU NUMB
AND AFRAID TAKING YOUR FREEDOMS AWAY
PLAYING THE SAME GAME
RAISING YOU FROM CRADLE TO GRAVE
CREATE A NAMELESS FACELESS MASS ASSIMILATE
ITS THE FATE OF OUR NATION
DECAYED AWAY ANOTHER FADED PAGE OF THE PAST
TAKING ITS SHAPE ANOTHER GREAT FALLEN KINGDOM
LAID TO WASTE LAYING THE BLAME ON THE SINS OF MAN
CARRY THE SHAME TURN OUR BACKS ON THE CREATOR
PRAISING OURSELVES INSTEAD OF HIM
ACCELERATING CHAIN REACTIONS
A SEPARATION FROM THE TRUTH AND FAITH
CREATING WAR AND PAIN VAIN DIGGING THEIR GRAVES
REIGN OF DELUSION MEMORIES WANE
HARD TO MAINTAIN ITS SO CONFUSING
PAVING OUR WAY TO JUDGMENT DAY
AND REVELATION WRATH OF THE KING
BUT ALSO GRACE AND SALVATION FOR THOSE WHO BELIEVE
MAYHEM DESTRUCTION GOG AND MAGOG OF NATIONS
NIMROD AFFLICTION SON OF PERDITION REFLECTIONS NEST IN
MASONIC LIAISONS BRAZEN BOLDFACED APPOLYONS AN INFILTRATION
WAGERS OF WAR DEMONIC SOLDIERS DRAFTED AND TRAINED AGAINST GODS KINGDOM
OCCULT CONFUSION SILENT ATTACK USE EVOLUTION
DESTROY CREATION ANNIHILATE ELIMINATE JUDEO CHRISTIAN TRADITION FOUNDATIONS
CONNECTIONS TO THE TRUE GOD OF WISDOM
MANIPULATE THROUGH EDUCATION AND IMITATE SCIENCE
FILTER THE BRAINS INVADE THE SYSTEM
CAMPAIGNED AGENDAS LISTENERS LOST
IMAGES GRAVEN ENGRAINED
INSIDE MALIGNED INVASIONS
AFFILIATED TO VISIONS FULFILLED
PROPHETIC SESSIONS UNVEILING HEARTS
BEATING WITH SOUNDS OF REVELATION
FULLY PREPARED WITH A FOUNDATION
READY FOR ANYTHING POST MID OR PRE TRIBULATION
POUNDING OUR SHIELDS AND SWORDS CREATING PLOWS FOR FIELDS
WE STAND FOR PEACE THE STAGE IS SET NO HESITATION
HASTEN THESE TIMES THE CURTAINS RAISES FACE TO FACE
WITHOUT EXCUSE THE PIPERS PAID
THE FIRE BLAZES
RALLY THE TROOPS
FROM FAR OFF PLACES
GATHER AT THE VALLEY OF TRUTH
AND HEAR THE SHOUTING OF OUR PRAISES
Tags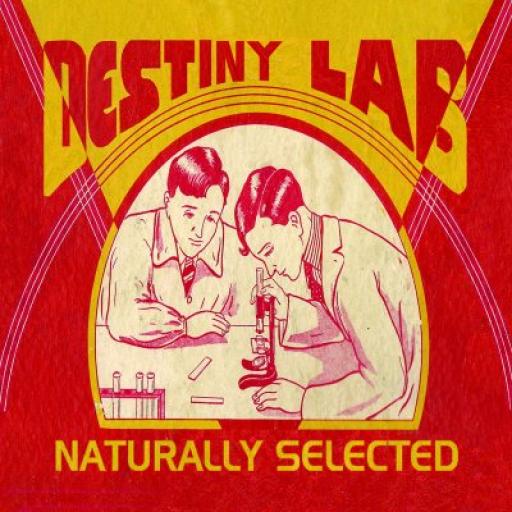 About Destiny Lab
Destiny Lab is a very unique Christian hip hop duo dedicated to; the exploration, discovery, understanding and the truth about the mysteries of man and nature. We are passionate about making music with meaning and purpose. Our music asks the listener life examining questions that demand answers. We witness and reason to others about the truth through the word of God and the self-evidence of that which He has made. We dabble in obscure subjects such as; evolution, creation, the new age deception, 2012, aliens, UFOS, the nephilim giants, dinosaurs, man, the origins of mythology, cryptozoology, and ancient technology. We look at these subjects to see how all these things tie into the truth of Biblical prophecy. When all of these subjects are looked at from a Christian worldview, the truth is revealed. Although, these subjects are interesting to study and debate our real goal is be instruments of God\'s will while breaking down the barriers and obstacles that the enemy has put into place that keep people from the truth that can only be found in Jesus Christ. He is truly the reason we do what we do. 
Recently Rated:
stats