Happy Atheist - Destiny Lab
Category:
Music
Duration:
00:04:02
Description:
A video for an amazing song. You can find Destiny Lab here

For more info on Destiny Lab or to support them go to:
www.destinylab.com

To hear all their music go to www.reverbnation.com/destinylab

More Destiny Lab videos available at www.youtube.com/destinylab

-------------Happy Atheist--------------

WHAT EXACTLY WOULD YOU SAY IF YOUR CHILD LOOKED UP AT YOU
AND ASKED YOU ABOUT GOD AND IF HE EXISTS AND IF HE'S TRUE?
AND WONDERED WHAT WOULD HAPPEN WHEN SOMEONE DIES - IS THERE A HEAVEN?
AND WHAT ABOUT THAT MAN UPON THE CROSS - AM I FORGIVEN?
HOW EXACTLY WOULD YOU ANSWER THOSE HOPEFUL LITTLE EYES
WHEN YOU'RE COLLEGE EDUCATED AND CONVINCED IT'S ALL A LIE?
SURE YOU WENT TO SUNDAY SCHOOL WHEN YOU WERE YOUNG BUT THAT WAS THEN
YOU'RE ABOVE THOSE SIMPLE THOUGHTS NOW THE ONLY GOD YOU KNOW IS MAN
ARE YOU SADDENED AND ASHAMED TO TELL THIS LITTLE SOUL
THAT YOU DON'T BELIEVE IN ANYTHING AND HAVE NO REASON AND NO HOPE?
THERE'S NO HEAVEN AND NO MEANING THERE'S NO PURPOSE TO OUR LIVES
THAT YOU BELIEVE WERE JUST EVOLVED RANDOM MUTATIONS COME ALIVE
YOU'RE NO BETTER THAN AN INSECT SON AND WHEN YOU DIE THAT'S IT
I'VE LEARNED THROUGH EDUCATION GOOD AND BAD JUST DON'T EXIST
IT'S ALL JUST EVOLUTION IT'S SURVIVAL OF THE FITTEST
AND WE CAN GET YOU A PRESCRIPTION WHEN YOUR LIFE BECOMES DEPRESSED
IM SORRY THAT I'VE CRUMBLED ALL YOUR HOPES AND ALL YOUR DREAMS
BUT IT'S TIME YOU REALIZE THAT LIFE'S NOT WHAT IT SEEMS

ARE YOU LOST? ARE YOU ALONE? ARE YOU CONVINCED THAT LIFE DOES NOT MAKE SENSE?
HAVE YOU FORGOTTEN THAT GOD EVEN EXISTS?
HAVE YOU REPLACED ALL THAT WAS REAL FOR A LIFE OF COUNTERFEITS?
AND CREATED YOUR OWN TRUTH A HAPPY ATHEIST

DO YOU REALIZE HOW YOUR ANSWERS COULD JUST SHATTER ALL THESE DREAMS IN EVERYTHING
THAT EVER MATTERED TO THIS PRECIOUS LITTLE BEING WHO HAD BELIEF AND CERTAIN PEACE
AND HAD RECEIVED THAT INNER VOICE INSIDE HIS CONSCIENCE AND HIS CONSCIOUS MIND BELIEVED
AND IT SICKENS YOU TO THINK CUZ YOU'VE DRIVEN BY YOUR EGO AND YOUR GREED
AND HE SEES IT AND YOU DON'T PRACTICE WHAT YOU PREACH AND YOU'VE LOST YOUR DIGNITY
AND YOU'VE SUCCEEDED IN DESTROYING ALL BELIEF AND DEFEATED ALL HIS REAL HOPES AND DREAMS
THEY MIGHT NEVER BE RETRIEVED AND THE FLAME WITHIN HIS HEART ALMOST COMPLETELY IS EXTINGUISHED
AND THE HOLES WITHIN HIS SOUL ARE FILLED WITH MIMICS
AND THE MESSAGE OF GODS GRACE WITHIN HIS MIND HAS BEEN DIMINISHED
BECAUSE THE ANSWERS THAT YOU GAVE HIM TOOK A PIECE OF EXISTENCE
AND THE POWER OF YOUR WORDS WERE UNFORESEEN AND IN THAT
VERY MOMENT YOU DESTROYED THE VERY PURPOSE OF HIS BEING
AND NOW HE'S LOST HE'S ALONE AND HE'S CONVINCED THAT LIFE DOES NOT MAKE SENSE
HE HAS FORGOTTEN THAT GOD EVEN EXISTS
HE'S REPLACED ALL THAT WAS REAL FOR A LIFE OF COUNTERFEITS
AND CREATED HIS OWN TRUTH AS A HAPPY ATHEIST
Tags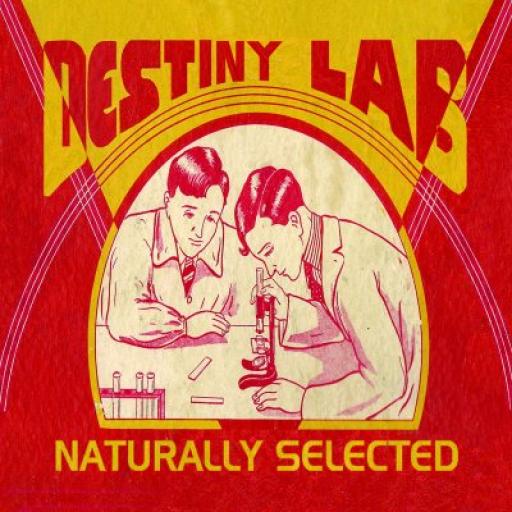 About Destiny Lab
Destiny Lab is a very unique Christian hip hop duo dedicated to; the exploration, discovery, understanding and the truth about the mysteries of man and nature. We are passionate about making music with meaning and purpose. Our music asks the listener life examining questions that demand answers. We witness and reason to others about the truth through the word of God and the self-evidence of that which He has made. We dabble in obscure subjects such as; evolution, creation, the new age deception, 2012, aliens, UFOS, the nephilim giants, dinosaurs, man, the origins of mythology, cryptozoology, and ancient technology. We look at these subjects to see how all these things tie into the truth of Biblical prophecy. When all of these subjects are looked at from a Christian worldview, the truth is revealed. Although, these subjects are interesting to study and debate our real goal is be instruments of God\'s will while breaking down the barriers and obstacles that the enemy has put into place that keep people from the truth that can only be found in Jesus Christ. He is truly the reason we do what we do. 
Recently Rated:
stats