Destiny Lab "NO ABSOLUTES?"
Category:
Music
Duration:
00:03:43
Description:
SCROLL TO BOTTOM FOR LYRICS!!
Destiny Lab cd's:
http://destinylab.com
Download online:
http://cdbaby.com/Artist/DestinyLab
Listen to our new podcast:
http://diggingforthetruth.podomatic.com/
Join Facebook discussion:
http://facebook.com/destinylab
FREE Destiny Lab music:
http://reverbnation.com/destinylab
You can support what we do by buying all 3 of our cd's for only $25 which includes 54 songs in all at http://destinylab.com! Or download our music through CD Baby, Itunes, Amazon and most other digital sites. Stay tuned for our 4th album which is in the works now!!
Destiny Lab has been behind the scenes for decades preparing this music for this day and age, and now is the time for it to be shared with the masses. Special thanks to Michael Myers at PIC DEATHR-AD for helping to create this official Destiny Lab video.
Are you absolutely sure that there are no absolutes? This is a great question to ask people who believe we create our own reality and that there is no absolute right or wrong and that truth and morality are just relative. It is quite interesting these same people who do not believe in absolute truth seem to be the first ones to tell you how wrong you are about believing in God or Creationism or the Bible. They seem to want to celebrate all diversities except the ones they disagree with. Do you know anyone that says there is no right and wrong but then loves to point out how wrong people are and how stupid Christians are? The new age movement is a perfect example....they claim love and light but as soon as you introduce Jesus or the Bible to the mix they become hateful, namecalling, Biblephobes! What an amazing and supernatural time that we live in that these truths can be seen so clearly....we truly must be living in the last of days. As believers we recognize these things and keep our heads held high knowing that one day every knee shall bow and every tongue will confess that Jesus Christ is King of Kings and Lord of Lords!
Lryics:
Lyrics:
NO ABSOLUTES?
ARE YOU ABSOLUTELY SURE THAT THERE ARE NO ABSOLUTES?
JUST PICK AND CHOOSE AND DECIDE YOUR OWN TRUTH?
THINK ABOUT IT HAVE YOU REALLY THOUGHT THIS THROUGH?
LET'S ANALYZE AND DISSECT THIS WORLD VIEW
WHAT IF I TOLD YOU THAT IN MY TRUTH
THERE'S ONLY ONE TRUTH THAT IS ABSOLUTELY TRUE?
AND ALL THE OTHER SO CALLED TRUTHS ARE SIMPLY NOT TRUE
CUZ IN REALITY THERE IS ONLY ONE TRUTH NOT TWO
LET'S SEPARATE ALL THE FACTS FROM THE FICTION
YOU NEED FOUNDATION IF TRUTHS WHAT YOUR SEEKIN
IM HEARIN PEOPLE EVERY DAY OF THE WEEK CLAIMING TOLERANCE
BUT THEY DON'T PRACTICE WHAT THEY PREACH
IS THERE REALLY GOOD AND EVIL? SOME PEOPLE DON'T THINK SO
THEY SAY IT'S RELATIVE AND EVERYTHING IS EQUAL
YA KNOW THE PEOPLE THAT CLAIM THEY'RE OPEN MINDED
THEY SAY THEY'RE EDUCATED BUT THEY'RE SPIRITUALLY BLINDED
THEY BOYCOTT CHRISTMAS AND CHRISTIAN IDEOLOGY
AND THEN THEY'LL TURN AROUND AND CHANT CELEBRATE DIVERSITY
THEY'RE REALLY OPEN MINDED TO THINGS THEY AGREE WITH
BUT IF THEY DISAGREE THEN THEY'LL LABEL YOU EXTREMIST
WILL YOU STAND BEFORE THE FATHER AND STILL RESIST?
WILL YOU TELL THE KING OF KINGS THAT HE'S JUST A MYTH?
EVERY KNEE WILL BOW AND EVERY TONGUE CONFESS
DISBELIEF CAN NOT KILL GOD IF HE EXISTS
AND EVEN IF YOU DON'T BELIEVE GOD STILL EXISTS
THEY CHIPPED AWAY AT THE FOUNDATION
AND HAVE SLOWLY REPLACED WHAT WAS CHRISTIAN WITH PAGAN
LIKE HAPPY HOLIDAYS AND MERRY XMAS?
WHAT? IS CHRISTMAS REALLY THAT OFFENSIVE?
I DON'T SEE XOWEEN OR XGIVING
OR ANY OTHER HOLIDAY WITH X AT THE BEGINNING
IT'S REALLY CRAZY HOW THEY JUDGE AND THEY CENSOR
AND GET SO DEFENSIVE WHEN I MENTION MY SAVIOR
IT'S EVIDENCE OF THE SPIRITUAL WARFARE
THAT HAPPENS DEEP INSIDE YOUR CONSCIENCE PEOPLE UNAWARE
DEMONIC BATTLES AND YOUR HEART IS THE WARZONE
DON'T WANNA SAVE YOUR SOUL BUT YOU WANNA SAVE THE OZONE?
WAKE UP GET A LIFE AND SNAP OUT OF IT
YOU CAN'T BE SAVED BY DRIVING HYBRIDS AND EATING ORGANIC
DON'T FALL FOR FADS AND ABSURDITIES
DON'T YOU SEE THAT YOU'RE PLAYING WITH ETERNITY?
YOU WANNA TAKE AWAY IN GOD WE TRUST
CLAIM CHRISTIANS ARE THE PROBLEM AND THE BIBLE'S A CRUTCH?
SOME DAY THE TRUTH WILL RISE TO THE SURFACE
THINK IM WRONG? REMEMBER THAT YOU HEARD THIS
WILL YOU STAND BEFORE THE FATHER AND STILL RESIST?
WILL YOU TELL THE KING OF KINGS THAT HE'S JUST A MYTH?
EVERY KNEE WILL BOW AND EVERY TONGUE CONFESS
DISBELIEF CAN NOT KILL GOD IF HE EXISTS
AND EVEN IF YOU DON'T BELIEVE GOD STILL EXISTS
Tags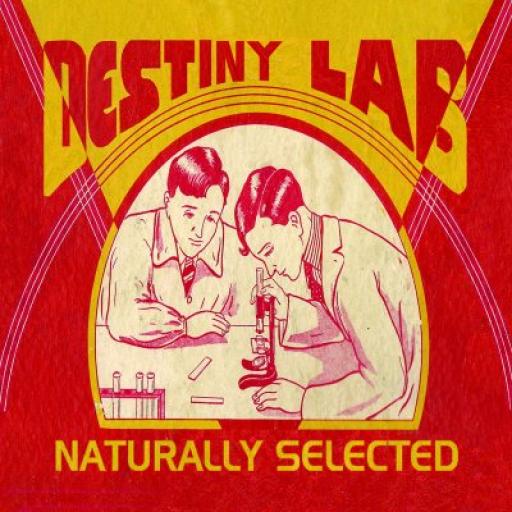 About Destiny Lab
Destiny Lab is a very unique Christian hip hop duo dedicated to; the exploration, discovery, understanding and the truth about the mysteries of man and nature. We are passionate about making music with meaning and purpose. Our music asks the listener life examining questions that demand answers. We witness and reason to others about the truth through the word of God and the self-evidence of that which He has made. We dabble in obscure subjects such as; evolution, creation, the new age deception, 2012, aliens, UFOS, the nephilim giants, dinosaurs, man, the origins of mythology, cryptozoology, and ancient technology. We look at these subjects to see how all these things tie into the truth of Biblical prophecy. When all of these subjects are looked at from a Christian worldview, the truth is revealed. Although, these subjects are interesting to study and debate our real goal is be instruments of God\'s will while breaking down the barriers and obstacles that the enemy has put into place that keep people from the truth that can only be found in Jesus Christ. He is truly the reason we do what we do. 
Recently Rated:
stats