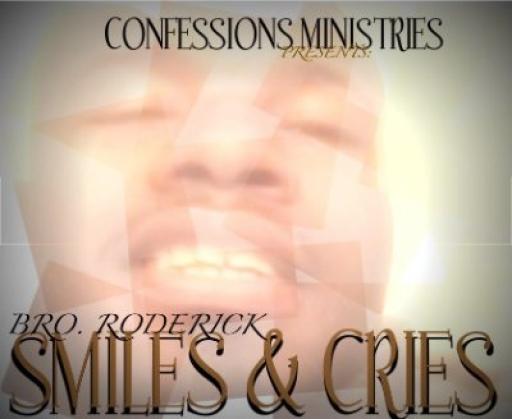 About Bro. Roderick
In his calling, Bro. Roderick knew God was on his side and began ministering through song. In 2008, at his home local church, Contender for the Faith, located in St. Paul, MN was the first place where many heard his first great written testimony "Pride vs God". Within a month later, after he posted Pride vs God online, he was introduced by Big Time Entertainment (BTE) after the company reviewed his website and loved the testimony and other songs listed. Networking his new music ministry "Confessions: Words of Encouragement" has gained him exposure and the experience to share his gift at a local cafe known as The Dinky Towner Cafe located in Minneapolis, MN. The Dinky Towner Cafe is a fine restaurant/bar that supports various local artists to perform and gain fan-base sponsored by BTE. On June 29, 2008, Bro. Roderick performed his first-time paid headlining show ever, delivering messages such as "We Ain't Goin", and "Pride vs God", including songs "Pray for Me", and "Who Cares" to name a few. 
Thereon, he taken the ministry by storm by applying himself to youth functions and programs in the community. Standing before a whole congregation is really brave and wise of Bro. Roderick as he steadfast in obedience to his calling. Not too many of us are brave enough to confess his or her sins with others without the fear of judgment. The more Bro. Roderick confessed his sins, believing God is our Rock in the midst of our troubles, the more it  had inspired some to make the decision to change their life.
Now currently living in the state of Georgia, coming from St. Paul, MN in January, 2011, Bro. Roderick is continuously spreading his music throughout the internet, designing and creating his own YouTube videos, writing and composing his own lyrics, and spreading the Gospel across the globe. You may check out more on Bro. Roderick by visiting his personal website, which is designed to reach out to Christian recording labels, ministries, ministers, and missionaries. 
Your support is encourged. Thank you!
Influences:
Lecrae, Trip Lee, Zion, DMX, Deitrick Haddon, Juanita Bynum, 2Pac, Tedashii, Flame
Recently Rated:
stats